Virtual Medical Director
The Virtual Medical Director is Canada's first employer resource serving as a counterweight to support overwhelmed physicians and the "sinking" of the healthcare system, to re-establish a new equilibrium of optimal care & outcomes for employees, and control for employers.
WHY IT'S NEEDED:
What do plan sponsors do when a worker presents:
With a doctor's note: 'Medical absenteeism—off work for 4 weeks'?
With the second note for another 4 weeks off work?
With a 'Work from home' accommodation request?
With an accommodation request 'To NOT wear a mask'?
Regular absenteeism for 3 or 4 days each and every month?
What do plan sponsors do when an older, loyal and performing worker starts to become a discipline or performance problem?
WHAT IT IS: Protocol driven, metrics & data guided, Best Practice Guidelines based targeted care for those employees needing more than the healthcare system can provide, particularly for mental health.
WHAT IT DOES: With legal authority as an agent of the business, the VMD does what NO other solutions does; using objective, validated scientific metrics, the VMD reviews the medical record of all absence claims (greater than 10 days) and accommodation requests:
VERIFICATION: Triage to separate serious medical, resolved medical & those taking advantage. For people struggling with complex issues, the VMD, as a personal physician concierge, proactively and cooperatively assists treating physicians to ensure prompt access to targeted, Best Practice Guidelines based care while offering additional support to the employee. Uptake by employees is greater than 95%. All the others return to work faster with no further action.
VALIDATION: Of two major KPIs of absence, quality of care and ability to work, allows the VMD to red flag potentially long duration and high-cost claims for prompt attention.
CURRENT & LEGACY SOLUTIONS: While bringing strong value to employees, EAPs, absence support & management, mental health support and wellness solutions are supportive in nature and non-medical. As non-medical resources, they are NOT treatment/care focused and do not interact with treating physicians.
Virtual care is designed as employee voluntary for minor medical conditions, not for the more often multi-factorial issues driving absence costs.
As employee resources, current and legacy solutions have no authority to review the medical record, essential to understanding, addressing and ensuring prompt, optimal targeted care for struggling employees, while uncovering those employees taking 'extra time off work.'
THE VIRTUAL MEDICAL DIRECTOR STANDS ALONE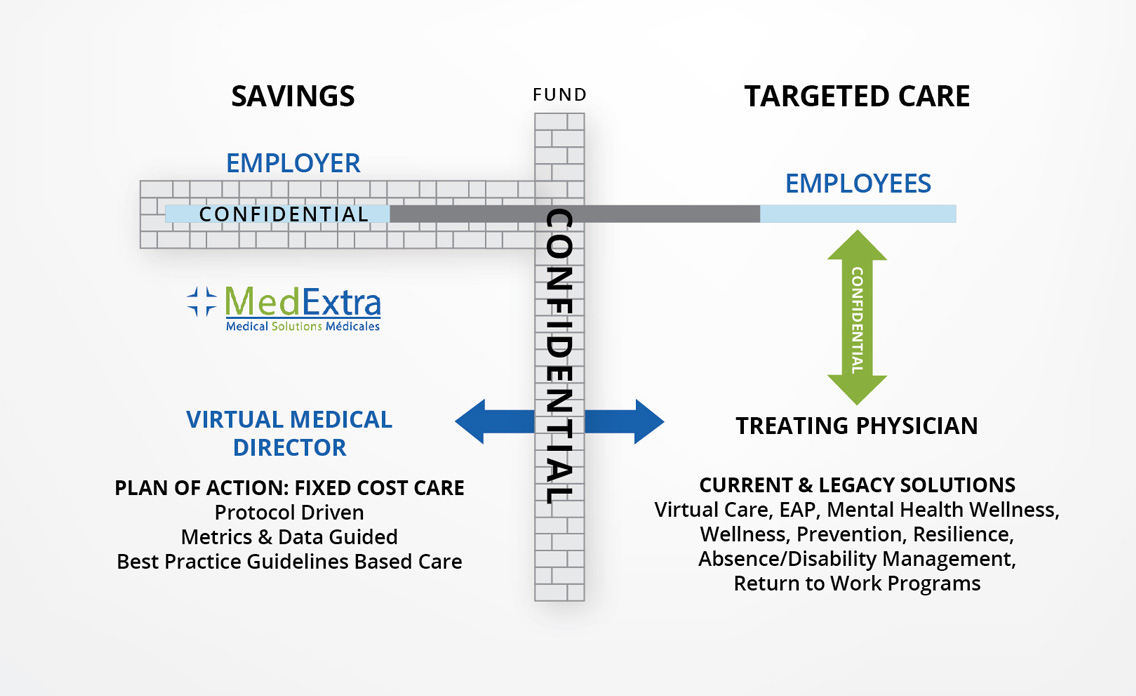 BENEFITS:
A comprehensive partner for a holistic approach
Faster care & return to health and RTW for employees
Oversight & cost/risk control for business
Peace of mind for employees
FEATURES:
Medical file review, disability claims greater than 10 days
Best Practice Guidelines Physician Concierge for employees
Professional, cooperative & collegial with treating physicians
Integrates into all plans & easy to use
Our one-page Overview can be found here.