About Us
THIS PAGE IS CURRENTLY UNDER CONSTRUCTION. PLEASE CHECK BACK SOON.
Far more than just a menu of services and a resource network, MedExtra identifies the principal issues underlying employee absenteeism, applies advanced triage protocols to identify suspicious claims and our proprietary Care Management to manage and reduce corporate costs & risks with a national resource to ensure prompt access to the care that is required.
Our solutions are used by plan sponsors across Canada, insurance carriers, managing general group agencies, brokers, agents & Canada's largest assistance provider.
Our Approach
MedExtra's Care Management is proactive, collaborative with treating physicians and best practice based to deliver Early Medical Intervention to accelerate diagnosis, treatment, return to health and work, with minimal costs and inconvenience, for plan sponsors and plan members.
Care Management is MedExtra's proprietary process functionally integrating IT, Care Managers, resources and treating physicians to get the right information, to the right professional, at the right time for efficient, effective & engaged care with no running around. This ensures prompt attentive care and problem resolution.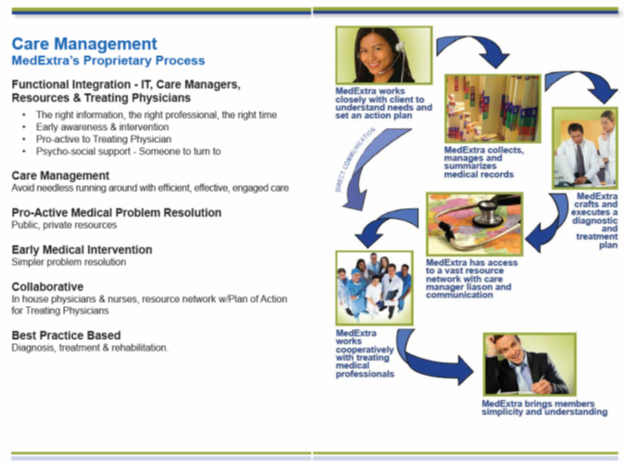 What We Do
MedExtra helps group benefits consultants design Extended Health Benefits plans to address employee mental health pathology while pro-actively controlling cost & risk.
For plan sponsors, MedExtra provides a corporate Medical Director service to help uncover questionable absenteeism claims.
For plan sponsors, in addition to identifying these struggling employees early on, our well-honed VERIFICATION and VALIDATION protocols help uncover questionable absenteeism claims generating savings to fund the targeted care for faster return to health and work.
For plan members, MedExtra provides a medical concierge service which offers personalized​ and direct access to a physician and healthcare team for complex health issues.